Monday, July 25, 2011
Al via un mio nuovo, piccolo progetto. Il sito appositamente allestito dice già tutto, penso, perciò visitatelo:


Posted by

Rafu
alle 04:16
No comments:


Thursday, July 21, 2011
Having a large number of friends — and not in the Facebook sense — I'm not surprised that I received several invitations to Google's new "social network", Google+. Instead of rushing headlong into it, though, I let those invitations rest for a while, while considering whether joining would actually do me any good.
I'm glad I was cautious. In almost no time, and with no effort on my part, I received enough off-putting, if unsurprising, news to decidedly make my mind.
Google+ terms of service and policy are as always geared towards the benefit and safety of Google, not
my
benefit and safety. They are explicitly sex-negative, even going so far as
removing a specific exception for art nudes
which was previously in place. They are chicken-hearted blanket statements meant to empower the company to arbitrarily disallow content on a case-by-case basis, which amounts to censorship. Cue the completely arbitrary ban of
Anonymous
. What does that remind me of?
Oh, yeah…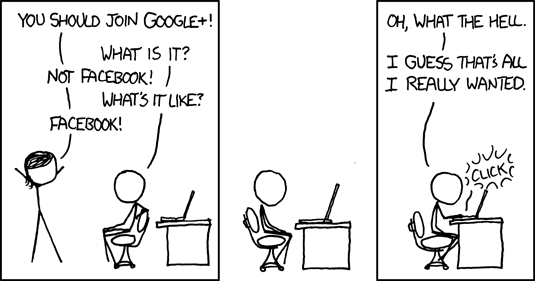 Well, I'm not joining. I didn't resist joining Facebook for so long just to impulse-subscribe a service which is just the same, affected by just the same liabilities and involving just the same dangers. For the time being, I'll go on using the
Status.net
(specifically
identi.ca
) as my sole "social network" provider.
My connections — the real-life ones — are an
asset
to a company like Google, and what has Google done to merit me gifting them with my assets? My demands weren't that high either: just by
doing nothing at all
they'd have qualified as exceeding my expectations. But no, they censored content and people, instead.
I'm actually beginning to feel uncomfortable having my e-mail, blog and a couple in-development websites all hosted by Google: surrendering this much of myself to a company was a mistake. At the time, they looked like the safest of companies, but I was just young and naive: big business is big business, and in the end their friendly facade is crumbling and revealing the extent of the lie. I will go looking for alternatives. So, maybe I ought to thank Google+ for raising my awareness of the problem.
Posted by

Rafu
alle 06:18
No comments:


Saturday, July 2, 2011
Mi scuso innanzitutto, perché questo post sarebbe dovuto comparire due giorni fa, al momento in cui — nel pomeriggio del 29 giugno —
l'obiettivo designato è stato raggiunto
. Dovevamo raccogliere 800 euro entro il giorno 29, e infatti…
ABBIAMO RACCOLTO 830 €
Grazie a:
Andrea, Antonio, Ariele, Barbara, Davide, Evelyn, Lapo, Lorenzo, Luca, Luca, Mario, Matteo, Mauro, Niccolò, Nicola, Paolo, Raffaele, Simone, Simone, Tazio, Teresa, Vittorio, Yves,
Associazione Culturale Janus e Hotel Royal Palace.
Ciascuno ha contribuito secondo le proprie possibilità e alcuni hanno dato tutto sé stessi per passione.
Un po' di statistiche, per soddisfare la vostra curiosità. Abbiamo ricevuto:
1 donazione generosissima di € 280
1 donazione "supporter" di € 100
1 donazione "platinum++" di € 50
4 donazioni "platinum" di € 30
2 donazioni "gold+" di € 25
7 donazioni "gold" di € 20
4 donazioni "silver+" di € 15
2 donazioni "silver" di € 10
2 donazioni "non ci perdi niente" di € 5
e l'hotel ha contribuito offrendo sconti a tutti ai donatori e ospitalità a Ben Lehman.
Ancora grazie a tutti, ma questa volta a titolo personale, da uno che spera in un mondo nel quale i giocatori si spostano e si incontrano cento volte di più — perché, lo credo sinceramente, confrontare esperienze diverse fa bene a noi e fa bene al gioco di ruolo.
Posted by

Rafu
alle 01:27
No comments: